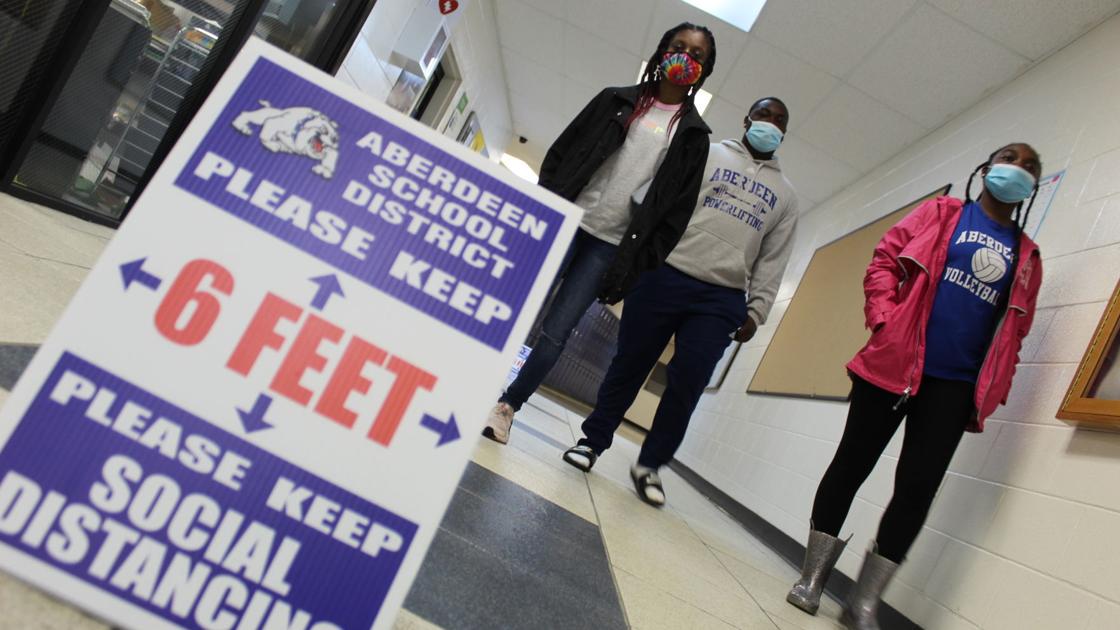 School Year '20-'21 has begun like no other in history because of challenges associated with the COVID-19 pandemic. School districts across Monroe County, and the nation, are taking extra precautions by enhanced cleaning and adapting to different ways to instruct students.
Through individually crafted varieties of the guidelines handed down from the Mississippi Department of Education (MDE), students have options of traditional, hybrid and distance learning models in Monroe County.
Inside and outside the classrooms
The Aberdeen School District is among those statewide electing to use a version of the hybrid model. According to district superintendent Jeff Clay, students opting for traditional in-class instruction at its three schools remain in the same room throughout the day while the teachers move to different classrooms between periods. Breakfast and lunch are also served in the classrooms.
"Our hybrid learning plan splits the student population into two groups at each school. In-person classes meet Monday through Thursday while Fridays are online only," he said.
At the high school, ninth- and 10th-graders attend on Mondays and Wednesdays, while 11th- and 12th-graders attend on Tuesdays and Thursdays. Elementary and middle school grades are divided into A and B groups, with those in the first group coming to school on Mondays and Wednesdays and the second group attending on Tuesdays and Thursdays.
"Our average class sizes in the lower grades number from five to eight students per room, so there is plenty of space for adequate distancing between students. Only two classes are permitted in the halls at a time to ensure adequate social distancing there as well," Clay said.
In the middle grades at Nettleton, teachers also rotate between classrooms to teach their subjects to different groups.
"This greatly limits movement in the hallways and allows for us to keep up with contact tracing if deemed necessary," said Nettleton School District Superintendent Tim Dickerson.
The Amory School District is following a similar hybrid learning plan to Aberdeen, although Amory's online day occurs on Wednesdays rather than Fridays. Virtual Wednesdays were originally scheduled through Sept. 16, but the Amory School Board approved last week to extend them through the end of the semester.
Monroe County School District campuses will continue to dismiss at 1 p.m. on Wednesdays for the duration of the fall semester. Beginning Sept. 23, Nettleton schools began dismissing at 1 p.m. on Wednesdays for virtual learning for the remainder of the fall semester, per Dickerson's office.
The Amory School District began the year with the student population divided in half similar to Aberdeen for the first week of classes and adjusted to full enrollment, with the exception of distance learners, beginning with the second week of school. District superintendent Ken Byars said approximately 20 percent of Amory students opted for distance learning. The district is offering parents the option of making changes at the end of nine-week intervals.
Percentages of student populations doing distance learning is lower at both Nettleton and Monroe County school districts, so measures are being taken to increase safety within the traditional in-person environment.
Specific percentages of students doing distance learning at last count was 35 percent at Aberdeen, 18 percent at Nettleton and nine percent at the Monroe County School District.
Since the school year is still in its first nine-week cycle, administrators do not have any data so far about the performance of their distance learners.
"Our students and staff are still working through the process of learning through this method," Dickerson said.
Amory School District principals gave feedback at the district's last school board meeting that was cautiously optimistic about distance learning for those who have adequate connectivity. They lamenting that students who must rely on entirely on paper packets instead of technology for distance learning have a stiff challenge to stay caught up with students attending school.
Amory's principals welcomed students to return to school if no virus symptoms exist and quarantine guidelines have been met. Districts are making adjustments as necessary to get as many students back on campus as possible.
"We set the end of the first nine-weeks to transition from virtual to hybrid or hybrid to virtual," Clay said. "If parents want to change back prior to the end of the nine-weeks, we are certainly going to speak with the parents as we want to do what is best for the students academically. This certainly involves dialogue between parents and school."
Virtual days at Aberdeen and Amory are being used for individual tutoring as needed for students whose performance is lagging. Assessments at the beginning of the year gave educators guidance on structuring the curriculum to get everybody caught up as much as possible.
"March 6 to August 24 is a long time not to be in a traditional school setting," Clay said. "Our hybrid classes are small enough that we can provide differentiated instruction to better meet the needs of the students. We are utilizing iReady in grades K through eight. We have Apex Learning (a digital curriculum) for grades six through 12, and each student has access to courses and tutorials which we feel will help. We are going to work as humanly possible to best serve the needs of our students, whatever it takes."
Safety in the school buildings
While social distancing regulations have reduced some class sizes, the need for extra cleaning is a practice across all school districts. The Monroe County School District, for example, dismisses early on Wednesdays to accommodate for deep cleaning and other chores made necessary by the pandemic.
The district's administrative leaders have been splitting up to travel to the school campuses on Wednesdays to assess circumstances and the practices employed to address them.
"We looked at Toyota's facilities for ideas about barriers in the workplace but were advised that they are not doing any better [at preventing virus spread]," said Monroe County Superintendent of Education Brian Jernigan.
Not all classes can keep students sufficiently distanced from one another, per CDC guidelines.
Dickerson said all unneeded items have been removed from classrooms so that students can be distanced as far as possible.
"Distance learning has helped a lot of our classrooms be able to adhere to the six-foot guidelines," he said.
Hand sanitizer is available for students and staff at all times, and both teachers and students wear masks while inside school buildings.
Some of the classrooms in schools across the county have additional safety measures in place with clear guards on tables where more than one student sits for limited small group work.
In Nan Moon's art classes at Amory Middle School and Amory High School, for example, the clear plastic dividers have been set up on tables shared by groups of students so that the audio-visual presentations may still be viewed while sanitary separations help promote personal safety for the students.
Most classes at schools across the county where students sit at tables instead of desks have the plastic dividers in place. Aberdeen is an exception.
"Currently, we do not have dividers," Clay said. "We chose to utilize a hybrid model by which we have half of the students not learning through the virtual model on campus two days a week. We have been able to keep the numbers of students down to no more than 10 students per class. This allows for social distancing. Our students/staff have been great about wearing face coverings."
While the methods of instruction and safety have changed this school year, the goal remains to help students catch up some from the previous year that was shortened by the pandemic without compromising expectations of learning for this current year.
Jernigan summarized the overall state of education in 2020.
"The rules are being written as we play," he said.
Private schools'
approach
Monroe County has three private schools – Amory Christian Academy, Creo School in Wren and Pentecostal Christian Academy in Aberdeen. Additionally, several Monroe County students attend Oak Hill Academy in West Point.
As with the other schools, measures such as temperature checks, Centers for Disease Control and Prevention guidelines and masks are being used to ensure safety.
"We also forbid sharing of any materials between students. We still have recess but don't do games where students would come in contact with each other," said Linda Lindale, who teaches first and second grades at Creo School.
Students wear masks but are allowed to pull them down if proper social distancing is observed in the classroom.
Lindale's mission to mentor young children leaves her hard pressed not to come near them.
"I just can't social distance and do my job right. As a staff, we try to make things as normal as we can," she said.
Lindale reported that enrollment at the school was up around 40 students for this year. There is no virtual learning offered, however.
Due to the pandemic, Oak Hill has witnessed an increase in new students.
"According to our board, enrollment is the highest in at least 10 years. We received a number of public school student transfers due to the extended shutdown. I think coming into a more family-oriented environment is proving to be a good experience for them," said headmaster Dr. Cathy Davis.
Pentecostal Christian Academy has also witnessed an increase in enrollment this year despite losing a few students to pursue home schooling.
Oak Hill's class sizes are limited to no more than 20 students.
"We had to split up a couple of grades to keep the class sizes down. Also, we do not group the locker assignments by grades to keep down the tendency for students to congregate," Davis said.
After school athletic activities are being held, but spectator capacity, like with other Mississippi schools, is currently limited to 25 percent.
The school does offer virtual learning, but only one student is currently pursuing that option.
A change of procedure at Amory Christian Academy has been for all students to go directly to their home rooms upon arrival instead of congregating together in the school cafeteria before the first bell. Lunches are still served in the cafeteria, but students eat in shifts to maintain proper social distancing at the tables.
"We fog all the rooms after school daily," said school secretary Melissa Ostrowsky. "If a student does have a fever, we direct that they be quarantined for 48 hours."
Ostrowsky said enrollment at the school is up by five students for this year. There are no students doing virtual learning, but the school has set up Google Classroom to be ready as needed.
"Thankfully, we haven't had any COVID cases thus far," said Amory Christian Academy Principal Eric Keeton.
Extracurricular activities have been cut back due to the pandemic, however, causing cancellation of the flag football season and school field trips.
"Volleyball is still on [tentatively], since it's a winter sport," he said.
The pandemic has forced Pentecostal Christian Academy to cancel all extracurricular activities, including basketball and music lessons, but daily procedures remain largely the same. Visitors are not allowed in the building.
"We do extra temperature checks on students if they have traveled out of state," said staff member Cynthia Quillen.
Pentecostal Christian Academy does not offer virtual learning since the school is still small. Class groups remain together for the entire school day whether in the classroom or the gymnasium for recess or physical education.