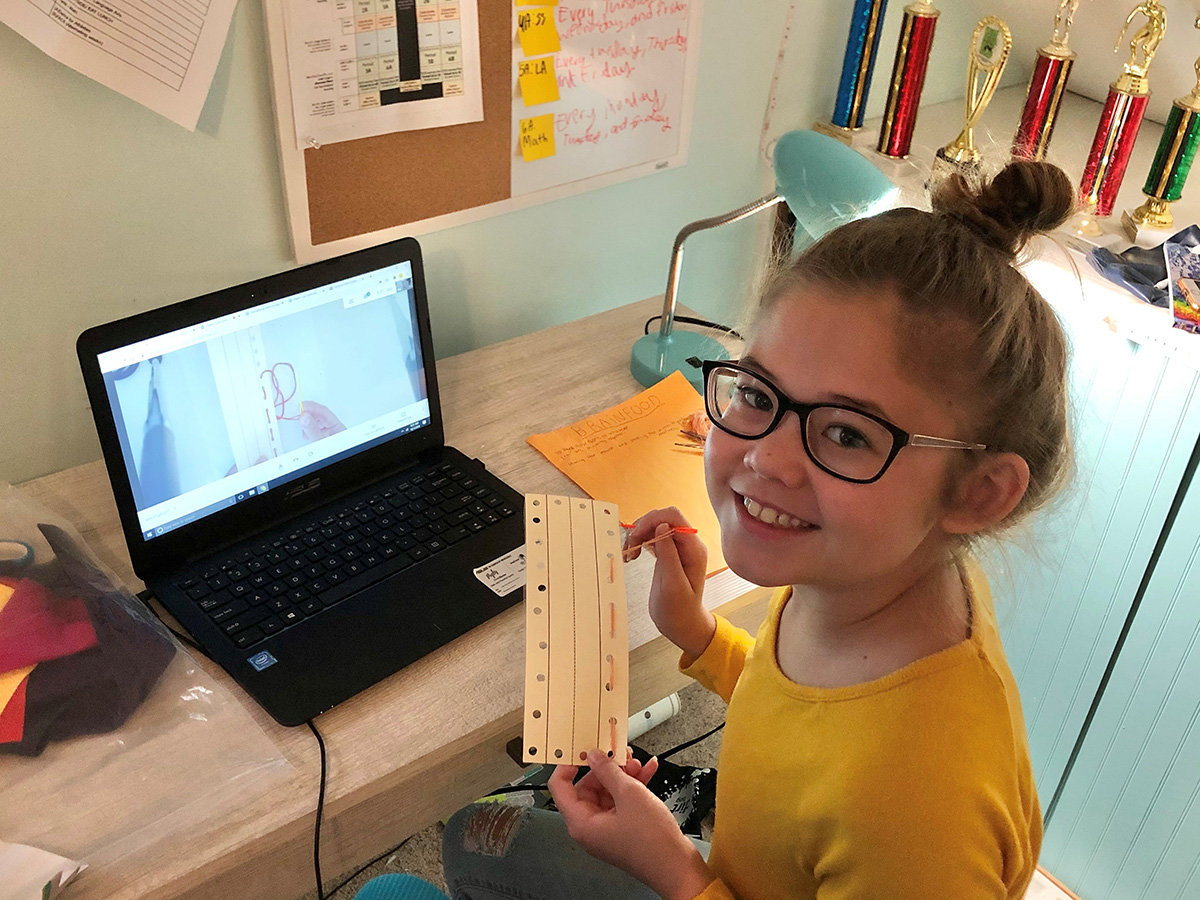 By Haley Weisgerber
When Anne Arundel County announced that the first semester of the 2020-2021 school year would be completed virtually, many teachers were forced to think outside of the box to keep students engaged. With over a month of e-learning under their belts this year, two Severna Park educators reflected on how they have kept their students engaged virtually.
Heather Barnstead, who is currently teaching Leadership 1 and Introduction to Microsoft Office 2013 at Severna Park School, said a lot of thought went into student engagement while adapting the virtual curriculum, particularly for highly interactive Leadership 1 class.
"For Leadership, my co-teacher and I sat down and really looked at everything we do in a normal year and thought, 'What can we change about it,'" Barnstead said. "We did a lot out of the classroom."
Although they cannot attend field trips or gather for events like they have in previous years, Barnstead said students will have guest speakers and a virtual entrepreneurship fair. The Signature Program team at Severna Park is working to create a live panel experience for the entrepreneurship fair, but will also include videos from local businesses that cannot attend the live event. Barnstead said she is excited for students to interact with business leaders as they would at the in-person fair.
While plans are being finalized on larger projects, Barnstead is focusing on giving students brain breaks, especially after a long day of screen time, and engaging activities during class time.
"All of these things take time, but in the meantime, we have been using a program called NearPod," she said. "Today I ran a race. So, a question pops up and they have to determine the answer while they are competing. Adding that competition element gets them excited."
Barnstead said she is also focusing on connecting with students and getting to know them the same way she would if they were in a traditional classroom setting.
"There is chemistry when you're in the room with them," Barnstead said. "As teachers we always talk about your proximity around the room. You kind of have to pull something out of what you're hearing and seeing so that they know that you're listening."
Fortunately, the Google Classroom technology has allowed Barnstead to be more available than ever to her students, as she is always near her devices to answer students' emails or jump into office hours.
Barnstead said Anne Arundel County Public Schools has done a great job of connecting her with resources and ideas for continuing to make this experience pleasant for her students.
"I would love for them, at the end, to say, 'Well it was a bummer that I wasn't with my friends, but I was learning,'" Barnstead said. "That is really the goal."
Rebecca Jenkins teaches Family and Consumer Sciences (FACS) at Severna Park Middle School. During virtual learning in the spring, Jenkins had a hard time engaging students from their homes.
"The students were watching rather than participating," Jenkins said. "We challenged ourselves over the summer to figure out a way to 'bring FACS home' and that is exactly what we have done this fall."
Jenkins and fellow FACS teacher Angela Carbone came up with the idea of creating sewing kits for all FACS students to take home. Prior to the first day of school, Jenkins and Carbone put together 600 kits in less than a week. The kits contained hand-sewing needles, thread, embroidery floss, embroidery hoops, fabric, shears and buttons.
The students will use these kits on a variety of projects this year, including felt pouches, "ugly dolls" and embroidered bags from upcycled T-shirts.
"They love having a needle and thread instead of a keyboard," Jenkins said.
In addition to the projects, Jenkins is keeping students interested with breakout groups, scavenger hunts, movement and even music.
Jenkins was originally drawn to FACS because she valued real-world lessons for her students, and many students take FACS simply because it is more hands-on than their other courses. E-learning may have been a challenge initially, but Jenkins' creative alternatives are an experience that students will never forget.
"I long for the day that we will be back together in the classroom, but I have learned that 'this too shall pass,'" Jenkins said.
Photos Provided
1. Madelyn Corey is one of the FACS students who received a sewing kit for e-learning.
2. Rebecca Jenkins (left) and Angela Carbone put together sewing kits as part of the FACS e-learning curriculum.