MOUNTAIN PINE — Mountain Pine Elementary School held meetings for parents of virtual students Tuesday and Thursday to discuss how at-home learning is going, and to find out what the school can do to make it better and address areas of concern.
Lisa Engebretson, elementary school principal, said it was the school's first attempt at virtual learning, so educators wanted feedback from families as to how it's going.
"We know that there are areas that are new to us, and we have probably made mistakes. We've tried to correct them as we've gone, but we want feedback from the parents to let us know what's working and what's not so that we can make adjustments to best meet the needs of our students," she said.
Engebretson said that the school had received comments about minor concerns such as connection issues, especially when it's raining and students have satellite internet services.
"They've had some issues as far as being able to log on or having internet services, but as far as what we've done and how we've gone about it, we haven't had very many (concerns)," she said.
Engebretson said there were some challenges when the school moved to online learning. Educators had to work out ways to get resources in the hands of the parents and students.
For example, if a student is doing math in the classroom, and they have manipulatives, the school wants to make sure that the virtual students have that opportunity to use those manipulatives, she said.
"We have a system set up for parents to come once every two weeks to pick up virtual boxes, that house manipulatives, or books, or anything that the student may need to be equitable with the kids in class," Engebretson said.
"It's been such a learning curve for us," she said.
Engebretson said that the school offered Chromebooks to virtual students. The school has recommended that students use the school-issued devices so they have the appropriate tools they and can be better monitored.
She said that the school is using Google Classroom and Zoom as its learning platforms.
Engebretson said that she has teachers who are doing live lessons on Zoom, noting that she has two teachers who are recording their lessons in the evenings and sending it out the next morning.
"When they Zoom with those students, they are letting the students ask questions, but most of them are teaching the in-class students and the virtual students the live lessons at the same time," she said.
"Each individual teacher has Zoom time set up for each core subject area (that) they teach," Engebretson said.
"We are blessed to live in a community that is willing to put their faith and trust in the school, and to work with us," she said.
Engebretson believes that virtual learning is a cohesive project that the parents are learning, the school is learning and the students are learning.
"We have made mistakes along the way, but we have worked together to fix them and never lost sight that the best interest of the student was in our heart," she said.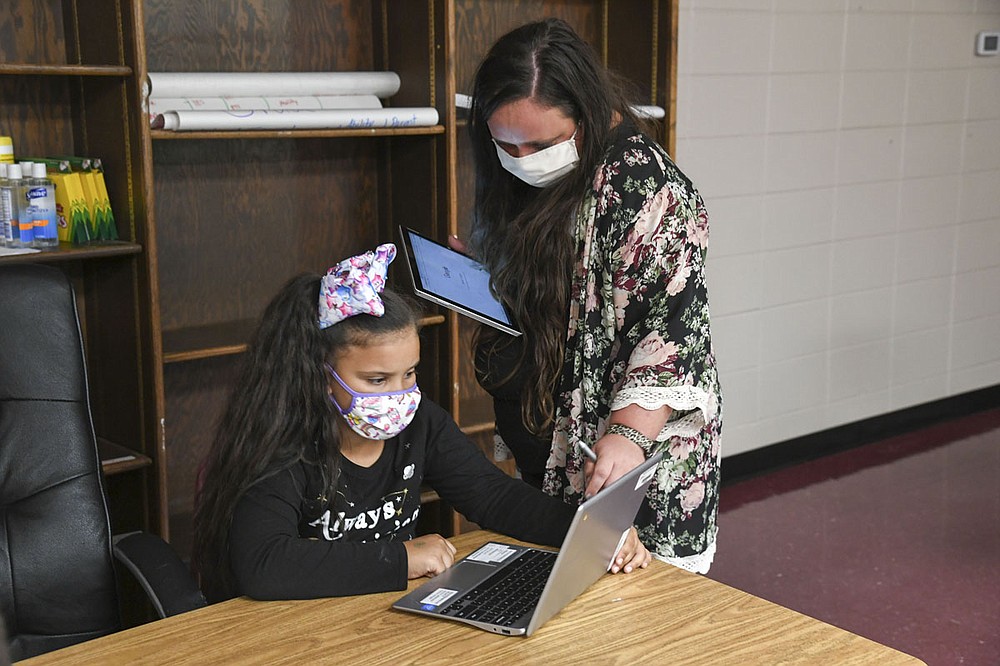 Mountain Pine's K-6 Virtual Liaison Lillian Alderman, left, helps second-grade student Jaleah Standoak log into her Chromebook on Wednesday. – Photo by Grace Brown of The Sentinel-Record