Considering the unconventional path that Omer Yurtseven has taken to get to where he is now, it's almost unsurprising that he would need to prepare for the NBA Draft in the midst of a global pandemic.
This is the player who became a professional athlete in Turkey at 15 years old. Who decided to pass up on a lucrative professional career in Europe to go play college basketball at NC State, and then Georgetown. Omer Yurtseven doesn't take the easy way out very often.
Despite all the different places his journey has taken him, Yurtseven has met each challenge head on, and done whatever was asked of him at each stop along the way.
Now, with his college degree in hand, Yurtseven feels ready to tackle his next challenge: getting drafted by an NBA team, and making an NBA roster.
"My biggest goal in coming to college was to get a degree," said Yurtseven, in a recent conversation this week with Hoyas 247. "That's the reason I left Turkey, and coming out of there was one of the biggest decisions of my life."
"It was my parents' dream to get my college diploma, and once I accomplished that, I felt my body and mind were ready for that next step, and I went with that after discussing it with my family and my circle."
Now, seven months into a pandemic that has greatly disrupted the NBA league calendar, Yurtseven has kept his head down and is working tirelessly to improve his body and his game, in between draft calls with interested NBA teams.
The lack of in-person evaluation for Yurtseven and other NBA prospects so far hasn't been ideal, coming off a season where circumstances that were out of his control prevented Yurtseven from showing off his full array of skills to NBA teams.
"It would have been really nice if I had workouts and was able to show what I was able to do," said Yurtseven. "This past year at Georgetown was not really about showcasing my set of skills, it was more about winning every game, and everybody trying to fulfill their role to 100%."
But that hasn't stopped NBA teams from sniffing around the skilled 7-footer, who averaged 15.5 points, 9.8 rebounds, and 1.5 blocks per game at Georgetown last season. Yurtseven says he has interviewed with "17 to 19" NBA teams already.
"The first one was the hardest with the [Atlanta] Hawks," said Yurtseven. "[My confidence] just went up from there. Initially it was the nervousness, and not knowing what to expect, but after that I got more comfortable and in the flow of things, and knew what to expect."
In speaking with so many NBA teams, Yurtseven has been able to take their feedback and incorporate it into his draft workouts, working hard to become the player he knows he can be, one who belongs in the NBA.
"The biggest thing coming in is defense and rebounding. And defense is what's going to keep you out there on the floor," Yurtseven said, on what teams have harped on with him. "I think that's one of the biggest things I would say, being able to guard 1-3, was the biggest challenge I had this past year. We had a hedge defense and that was something that I had to work on, because I hadn't played it since I was 18. Going back to that after playing two years at NC State, I had to pick up my footwork and foot speed so I was able to play hedge."
"But in the NBA, what they need you to do is be able to switch out 1-3 and play one-on-one with them and keep them in front of you. And I think that will be the biggest transition for me coming into the NBA. It's not like I did a crazy good job at hedge defense. I think I would say there were four or five times where my footwork was not right or my footspeed was a little slow, and that's what we've been targeting for the past 7-8 months, and it's really been paying off."
In order to keep up with guards and wings in the NBA, Yurtseven has had to work on improving his conditioning and his physique, to be able to play lighter and quicker on defense.
"Bigs are becoming outside shooters and they're becoming perimeter defenders, perimeter shooters, and really good defenders. So that's the biggest transition I would say coming into the league, and that's why I've been putting the focus on my lateral quickness, on my footspeed, and also making sure my ankles are stronger and my knees are stronger, and also shedding a lot of weight. I dropped down to 260 [pounds], and I was around 275-278 in the season."
Yurtseven is hoping that the lack of stability he has experienced in his career, both professionally and collegiately, will be a blessing in disguise as he makes the jump to the NBA. Yurtseven played for three different coaches in college, with three different systems for him to learn. He's confident the knowledge of multiple systems and schemes will help him in the NBA.
"I would say I'm pretty versatile and can play in any system," Yurtseven said. "What's going to be fun is going to be seeing what kind of offensive and defensive scheme the team that I'm drafted to has, and learning and also adapting to different systems, because I haven't had a lot of consistency throughout my college career. I had three coaches in college, and I had to adapt to their different systems and how they played."
When speaking to teams and making his case to them, Yurtseven has been emphasizing his ability as a rebounder and a shooter. Last season, Yurtseven grabbed 14.4 rebounds per-40 minutes, and had a rebounding percentage of 19.7%. As a shooter, Yurtseven didn't get to showcase his three-point shot at Georgetown, as he mentioned, but shot 12-for-44 from three in his last season at NC State, a promising sign for the skilled big.
"Defensively or offensively I think I crush the glass pretty hard on both ends, and I can do an even better job, and that would be the biggest translatable skill," said Yurtseven. "Also being able to shoot the ball at the next level. Because every team could use a skilled big right now, and that would be an area that I could showcase way more because of how spread out the floor is and how double teams can't collapse on me when you're inside or outside."
The exodus of players that left Georgetown during the 2019 season led to Yurtseven's role becoming more one-dimensional than he originally anticipated when he first arrived on the Hilltop.
While Yurtseven was happy to do whatever the team needed from him, it did limit what he could show to NBA teams that were watching. And he's been working ever since the Hoyas were bounced in the first round of the Big East Tournament to prove to NBA talent evaluators that there is more to his game than what he was able to showcase in 2019.
"The biggest thing I realized is that they needed me to be that inside presence. They needed me to collapse defenses so that the defense would sink inside and we would be able to kick it in to the shooters outside, because we didn't have anyone other than me to be that inside presence and draw those double teams, and kick the ball out and put teams in rotation. That was demanded of me and I tried to fulfill that role to the best I could," said Yurtseven.
"Whenever I would pop I would hear the coaches say, 'Roll! Roll!', and then two or three coaches getting up at the same time. I realized that's what they wanted from me and that's what I tried to do," said Yurtseven. "Coming in it was my goal to shoot a lot of three's as well because I saw Jessie Govan doing that, so it was a big area I saw myself fitting into as well. But I guess after losing three or four guys, our coaching staff wanted to find the best way possible, and that's what they saw fit."
Three-point shooting has been a major focus of Yurtseven's during his workouts, as a result.
"We sent a pro day video to all the teams and in that video, our biggest focus was showing how fast I am laterally and my ability to shoot. I think in that video, I shot 75% from three," he said. "I think it's the best I can do right now to show NBA teams however possible because I wasn't able to do it at Georgetown."
Defensively, Yurtseven was put into a system that asks a lot of its center in pick-and-roll coverage, no matter how good of a fit they are for it. For a Georgetown defense that ranked last in the Big East in defensive rating last season, its refusal to have its centers play anything but the hedge defense they are asked to execute on ball screens was head-scratching, to say the least.
"In past years, when Jessie [Govan] was here, we played down on the sides, and then hedge free throw line and up. This past year, he [Patrick Ewing] just decided to play hedge, and we just followed. I don't really know why," said Yurtseven. "But it was his scheme and all we had to do was go with it and trust in it. That's what we did as a team and tried to run it the best way possible."
"I tried to talk to him once," Yurtseven went on to say. "I was trying to learn what is the basketball logic behind hedging, because I wanted to know, and he just said that's the way I want to play, and that was it. That was the only answer I heard."
But despite the tight ship Ewing ran with his team, playing for an NBA Hall of Famer is an experience that is already paying dividends for Yurtseven with NBA teams.
"Every single team I've interviewed with recognizes the opportunity and the importance of working under him," Yurtseven said. "He played in the league for 17 years and coached there for 15. They all know it and they have respect for him. So when I tell them why I transferred to Georgetown, it makes sense."
Yurtseven learned a lot under Ewing, saying, "The biggest thing I've said I learned from him, and I tell this to the teams too, is the pace he wanted me to play at was always faster. No matter what move it is, it was always about getting that pace up."
Yurtseven laughed before bringing up one of his fonder memories of Ewing.
"His classic line at every practice was, 'Run motherf*****, run!'. That was another thing that we always heard."
"On the court he is very gritty and absolutely will not take no for an answer," explained Yurtseven. "But off the court, he is literally the nicest guy ever. You could be intimidated by his size, but I guess you wouldn't expect the kindness from him. He's just an awesome person to talk with and be around. He's always there to talk whenever you have anything really, any questions."
The end of Yurtseven's Georgetown career was a bumpy one, as the center suffered an ankle injury against DePaul on February 8. Despite Patrick Ewing calling it a "bad sprain" after the game, Yurtseven surprised some when it was announced he would suit up for the Hoyas' next game on the road at Butler, but left most confused, as he wound up sitting out the game, after initially warming up.
Yurtseven explained what happened leading up to the Butler game with his sprained ankle.
"Before the Butler game, where I was kind of dressing up but not really, they just gave me a painkiller, and they just said there's nothing wrong structurally," said Yurtseven. "But every time I would step on it, I would feel how weak it is. So I didn't really have full power on that leg, but I just tried to warm up, and I wasn't able to."
"I don't know if it was me or it was them, but I kind of felt that pressure to play. I think it comes out of wanting your team to win."
The ankle injury would limit Yurtseven for the remainder of the season. Having the team's best offensive player playing well below 100% for the home stretch of the season was a big reason why the Hoyas dropped their final seven games against Big East opponents.
"After that [game against Butler], I was like OK, I pushed it, because after trying to play that ankle swelled up again. My left ankle swelled up again and I was like, 'Yeah, I forced it. I rushed it.' So I wasn't able to play until the DePaul game and I played there and I still wasn't 100%. And that's when I kind of tweaked my right [ankle] because I was compensating, which got me really mad and frustrated really."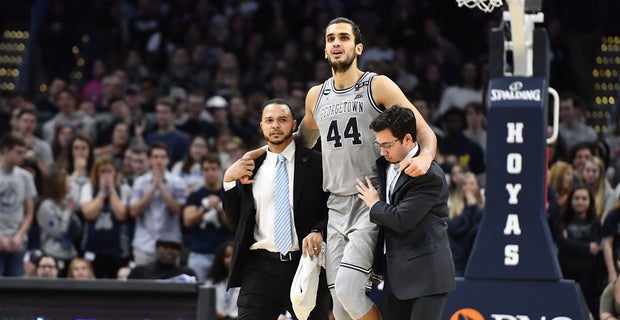 "It was also me, putting that pressure on myself after losing four guys. The team needed me and I just wanted to do everything, but it got in the way a lot."
Yurtseven tried to give it another go in the Big East Tournament against St. John's, but was clearly not himself still, gutting out 21 minutes and attempting just two shot attempts, in the Hoyas' season-ending 75-62 loss to the Johnnies.
"There was a lot of pain of course. I just thought it might be my last college game ever. I wanted to go all out," said Yurtseven. "The ankle still inhibited me from playing and running 100%, but I just wanted to go out there and give it my all."
"I didn't want to have that regret of not playing, of not trying, of not going after it. That was my biggest motivation."
Much like the 2019 Hoyas as a whole, Omer Yurtseven's lone season as a Hoya was one big 'What if?'. A consummate team player who gave his all for a team that was hamstrung by players walking out the door in the middle of the season, Yurtseven is healthy now, and hungry for his next challenge, one he hopes will take place in the NBA next season.
Yurtseven, who is training with NBA skills coach Ben Bellucci in Maryland, has been going through 12-18 workouts a week, putting up 7,000-10,000 shots per week.
"These past seven months has given me the opportunity to work on whatever I have to work on," said Yurtseven. "This is the biggest offseason that anybody could ask for [with all the time to prepare]."
Just like every challenge he has faced so far, Yurtseven is staying ready, and making sure that he makes the most of the next opportunity that is presented to him, hopefully in the NBA.